CFO : Bir firmanın finansal akışını yürüten Standards and Partners yaklaşımına göre en hayati görevlidir.
Neden mi? Çünkü Kristal top ona emanettir.
"Biz iş adamları elinde üç top oynayan cambazlar gibiyiz. Bu topun iki tanesi lastik top [Satışlar ve Kâr], biri de camdan kristal bir toptur [Nakit Akışı]. Lastik toplar yere düşse de, tekrar yükselir ve yeniden tutabiliriz ama kristal top yere düştüğünde kırılır ve oyun biter. " 

Üzeyir GARİH
​
İyi bir CFO'yu istihdam etmek özellikle Türkiye'deki orta ölçekli firmalar için oldukça maliyetlidir. Firmalar bu maliyetleri karşılamakta zorlanır ve görece daha düşük maliyetli personel ile finansı yönetmeye çalışırlar.
Standards and Partners açısından bu durum teknik olarak mümkün değildir. Bunun nedeni iyi bir CFO, gerek iç gerek uluslararası finansal piyasalara hakim olabilmeli, bu piyasalarda kullanılan yüzlerce değişik finansal ensturmana ve ilişki ağına sahip olabilmelidir.
Bu nedenle yüksek uzmanlık gerektirir ve Standards and Partners Hizmet Fiyatlandırma Denklemi 'nde sebepleri incelendiği üzere yüksek değer, yüksek ücret kaçınılmazdır.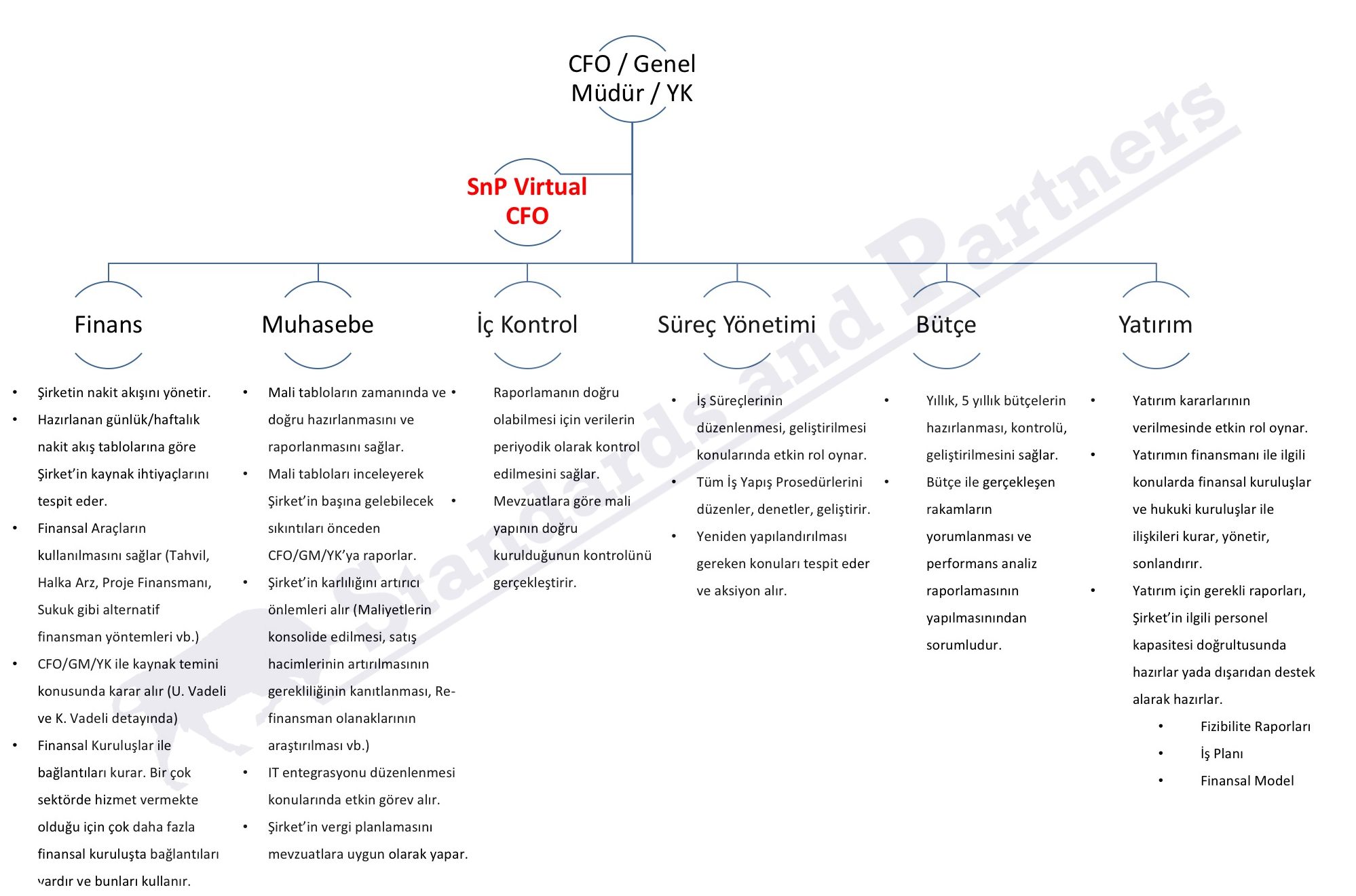 Standards and Partners bu meselenin çözümüne ilişkin tasarımlar yapmış ve SnP Virtual CFO hizmetini devreye almıştır.  Yüksek uzmanlığa sahip bir CFO'yu Standards and Partners bünyesinde istihdam eder ve orta ölçekli firmaların kullanımına sunar.  Ödenebilir seviyede bir hizmettir.
An gelir bir günlük yüksek uzmanlık, yıllardır aranan sonuçları getirir.